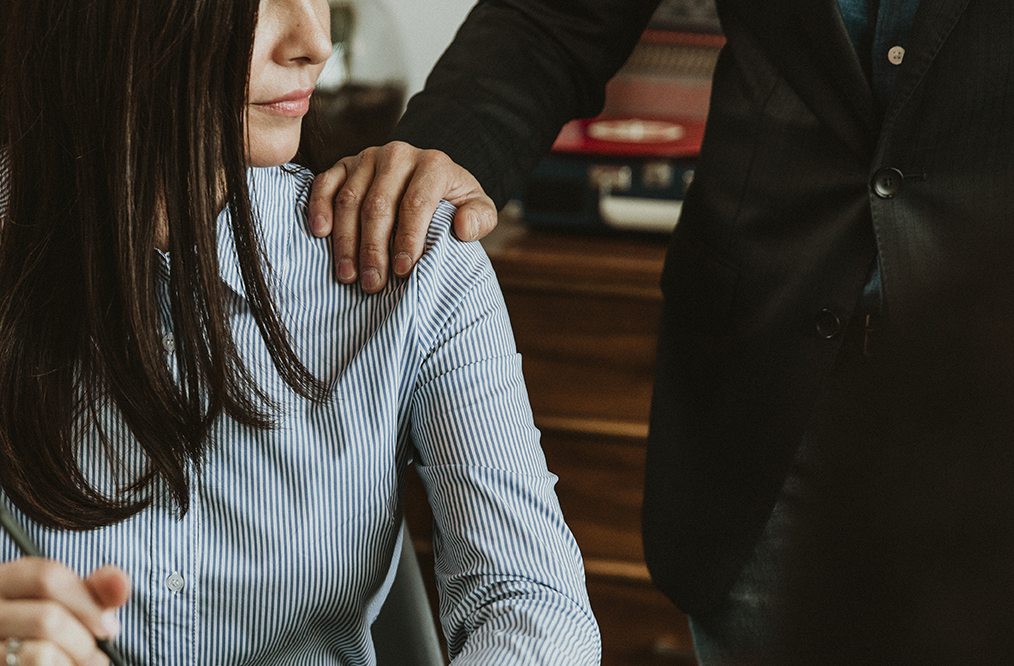 Protecting Your Right to be Free from Sexual Harassment in NYC
You have a right to be free from sexual harassment in the workplace and on college campuses. Employers or colleges must take measures to prevent unwelcome advances, offensive comments, sexual contact, and other inappropriate behavior. You are able to make complaints about sexual harassment and demand that it stops without fear of retribution. Consulting with a New York attorney who is knowledgeable about sexual harassment laws may be beneficial. Victims can receive further damage awards, such as emotional distress compensatory damages, punitive damages to punish the wrongdoer, and legal expenses reimbursement.
If you have suffered from sexual harassment, you may be entitled to recover compensation for multiple reasons, such as lost earnings, denial of a promotion, raise or educational opportunity, emotional distress, and punitive damages. You may also be entitled to an injunction or court order protecting you from future harassment and retaliation.
At The Howley Law Firm, our sexual harassment lawyers have decades of experience representing individuals in the New York area. We have fought to protect the rights of executives, professionals, employees, domestic workers, and college students. We understand the emotional stress that sexual harassment can cause, and we will work diligently to protect your rights and fight for the justice you deserve.
What is Sexual Harassment?
Sexual harassment is a form of sex discrimination. It includes many different types of unwelcome or offensive behavior that is directed at you because of your sex.
The law recognizes two forms of sexual harassment.
1. Quid Pro Quo Sexual Harassment
This occurs when the offensive conduct is made a condition of your employment or advancement. For example, quid pro quo sexual harassment occurs when a supervisor refuses to give you a raise or promotion unless you agree to go out on a date. 
2. Hostile Work Environment
This occurs when the unwelcome conduct is so severe that it affects your work or educational environment, unreasonably interferes with your performance, or creates an intimidating, hostile, or offensive environment. A hostile work environment usually requires a pattern of offensive conduct over a period of time, but one severe incident may be enough to create a claim for damages.
The harassment does not have to be sexual in nature. The key is that it is directed at you because of your sex. For example, a supervisor who belittles or ridicules women may be guilty of sexual harassment. Similarly, a supervisor who treats you differently because you do not conform to a sexual stereotype may be engaging in sexual harassment.
An experienced lawyer can help you understand whether you have a claim for sexual harassment by considering your specific facts and circumstances. Call us at (212) 601-2728 to schedule a free and confidential consultation to discuss your case.
Examples of Quid Pro Quo Sexual Harassment?
Quid pro quo harassment occurs when the harasser states or implies that employment or academic decisions will be made based on your submission to or rejection of sexual advances.
Some common examples include:
Telling you that getting a promotion depends on you sleeping with the boss.
Insisting that you go out to dinner if you want a better work assignment.
Implying that getting a raise is dependent on your submission to sexual conduct.
Suggesting that you will not receive a good grade or letter of recommendation if you refuse to go out on a date.
Insinuating that your employment, wages, or promotional opportunities will be negatively affected if you turn down sexual advances.
Types of Conduct That Create a Hostile Work Environment
In general, sexual comments or gender-based hostility can create an intimidating, hostile, or offensive work environment if the conduct is severe or pervasive.
Some types of conduct that can create such a hostile work environment include:
Frequent and inappropriate leering, staring, or looking at you with "elevator eyes" (looking you up and down).
Sexual jokes, degrading language, and offensive remarks.
Sexual gestures
Whistling, cat calls, or indecent gestures.
Asking about your sexual preferences, fantasies, or activities.
Unwanted physical contact such as hugging, rubbing, touching, patting, pinching, or massaging.
Comments about your body, appearance, dress, or relationships.
Sexual phone calls, text messages, or emails.
Sending or displaying sexually explicit images.
Repeatedly asking for a date after you have expressed disinterest.
When Is My Employer Legally Responsible for Sexual Harassment?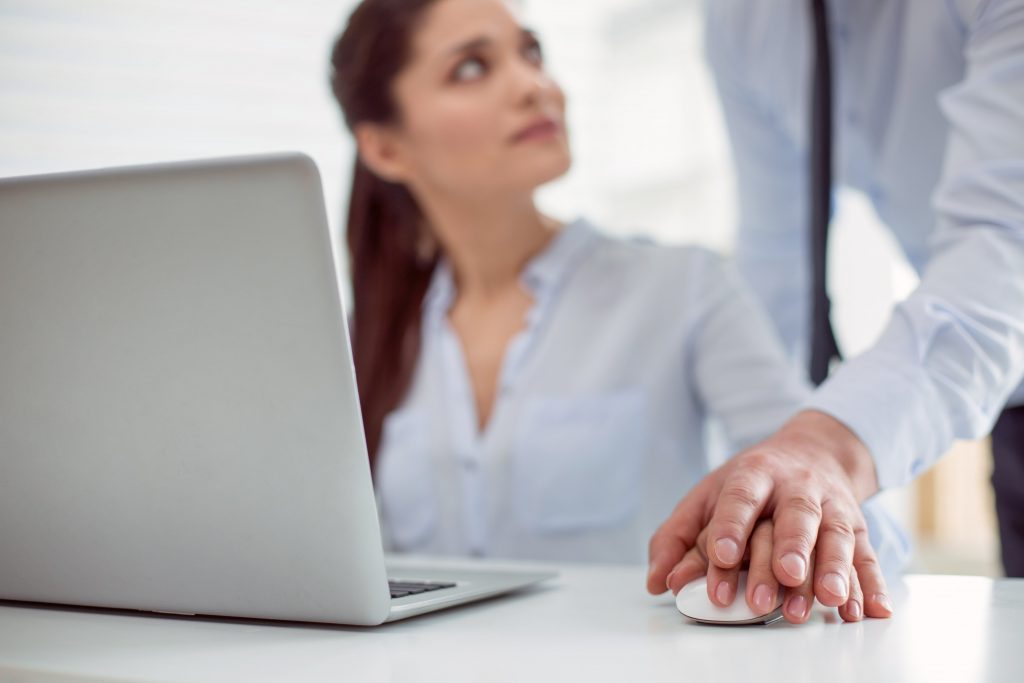 An employer is legally responsible if the harasser was your supervisor—the person with authority to hire you, fire you, cut your pay, etc. The fact that senior management did not know about the harassment does not make the company any less responsible for your supervisor's conduct.
If the harasser is a co-worker, contractor, client, or customer, your employer is liable only if management knew or should have known about the harassment and did not take immediate and appropriate corrective action. This is another reason why it is important to file a formal sexual harassment complaint with your employer as this is a criminal offense.
Types of Compensation Available for Sexual Harassment
As a victim of sexual harassment, you are entitled to compensation for lost wages, denials of promotions, raises or educational opportunities, emotional distress, and reasonable attorneys' fees and costs. In some cases, you may be entitled to an injunction or court order restoring you to a prior position, giving you a promotion or raise going forward, and protecting you from future harassment or retaliation. You may also be entitled to punitive damages.
Contact a New York Sexual Harassment Lawyer Today
Proving a sexual harassment case can be complicated. You must comply with specific sexual harassment laws, procedural rules, and time deadlines. You also must develop and present your proof of harassment in compliance with the rules of evidence. An experienced sexual harassment attorney can ensure that you meet all of these requirements and present the strongest possible case. The process begins with a free and confidential consultation with one of our New York employment attorneys.
Employers, administrative agencies, and judges often take a case more seriously if you are represented by an experienced attorney. This may result in a higher settlement offer or jury verdict. Having an experienced attorney on your side will also reduce the stress of fighting for your rights.
If you have a sexual harassment claim, The Howley Law Firm may represent you on a contingency fee basis. In other words, you will not pay us any legal fees unless you win.
If you are in search of sexual harassment lawyers in New York give us a call at (212) 601-2728 to discuss your case in confidence with an experienced, compassionate attorney who will help you understand your rights and options. We will connect you with a New York sexual harassment lawyer that will stand by your side.
If you have further questions, read our answers to frequently asked questions (FAQ) below. If your question is not answered below, give us a call and get in touch with our team today.
Sexual Harassment FAQs
Answers to Frequently Asked Questions